Given that I've been working on the Open Colour Standard for two years, it's easy to assume (if you're not as intimately involved with it as I am) that it's not really going anywhere. The good news is that that couldn't be farther from the truth. It's just that the physicality of the project, by necessity, makes it pretty darn complicated and time consuming.
However, in the spirit of dispersing some of the apparent vapourousness, I'm going to share some pictures of what's happening right now, in my ad hoc laboratory. Since the big task right now is coming up with a good foundational set of colours for a couple of different applications, I've been focusing on acid dye (for animal protein-based textiles and some synthetics) and screen printing ink. Below, some of the tools involved in that development.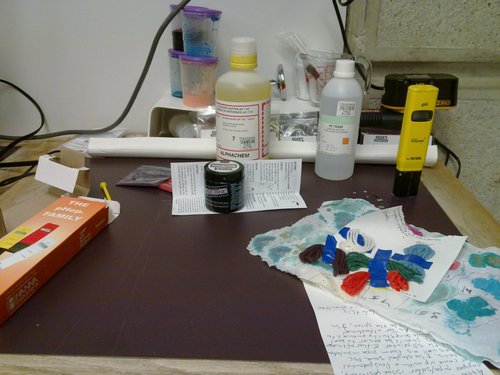 1. Box for pH meter, which stresses the ISO 9001 compliance of the company which manufactures the meter; 2. Test swatches of dye on both paper and wool; 3. Commercial, semi-permanent hair dye (for use as a pH comparison for successful cold dying of animal proteins); 4. Instructions for calibration and maintenance of pH meter; 5. Packets of FD&C dye powder (purchased from hobbyist soap making company); 6. pH meter (from scientific supply store); 7. Rack of FD&C dye packets; 8. Storage solution for pH meter; 9. Buffer solution for pH meter; 10. Tester inks made of FD&C dye solution (solution, combined with clear extender base for screen printing); 11. FD&C dye solution; 12. Thermometer (actually intended for cooking); 13. Spatulas, droppers and Pyrex measuring cup; 14. Jar of citric acid crystals, wrapped in plastic bag (purchased from textile dye supply store).